The Pemulan Bali Farm Cooking School
is located north of Ubud in the middle of the jungle. Everything on the farm is grown organically.
There are two courses offered daily. One at 7:30 am with a visit to a local market, the other starts at 12:30 pm. Starting time is the time when you get picked up in Ubud. Yeah right. Since the farm is very remote, there is a pick-up and delivery service, which is included in the price.
I got the tip for the cooking class from a friend who has spent a long time in Ubud. She did not rave about the Pemulan Bali Farm Cooking School in vain for the course was really sensational.
I had registered very shortly only the evening before and still everything went smoothly.
The preparation phase
When you arrive at the farm you will first receive a welcome drink and information about the course of the class. In total, you can expect that it'll last for about 6 hours from the pickup until you get back to Ubud.
Already during the registration on the Internet, you can indicate whether you want to cook regular, vegetarian or vegan. On site you will also get a corresponding cookbook. Incidentally, the Pemulan Bali Farm cooking school is very relaxed and this ease has also been transferred to us students. We were a small group of 5 people this afternoon. Two US-Americans, two Belgians and me.
Next we took a tour of the farm with our cooking instructor, Deren and along the way collected ingredients for our dishes. We learned a lot about the fruits and vegetables grown there. Fruits like pineapple, papaya or mangostin do not grow in Central Europe. And in Europe you generally know next to nothing about the different types of ginger.
Let's get started
On the plan were two appetizers. For the vegan / vegetarian faction – that was the Belgian Aurelie and me – Gado Gado and Sweet Sour Tempe were on the menu. You can see some of the ingredients for this in the following pictures. I felt that garlic was the most commonly used ingredient. 😉
The appetizers
Gado Gado is a typical Indonesian dish. It always consists of leafy vegetables and peanut sauce. In our case, finely chopped carrots, potato cubes and bean sprouts, as well as tofu and tempe were added.
For the Sweet Sour Tempe we cut tempe into small slices and fried it. Then garlic, red pepper, lemongrass and spring onion were seared in a pan. Subsequently, palm sugar was added and caramelized with constant stirring. Then it was blotted with lime juice and everything mixed well. Finally, we added the fried Tempe. Finished.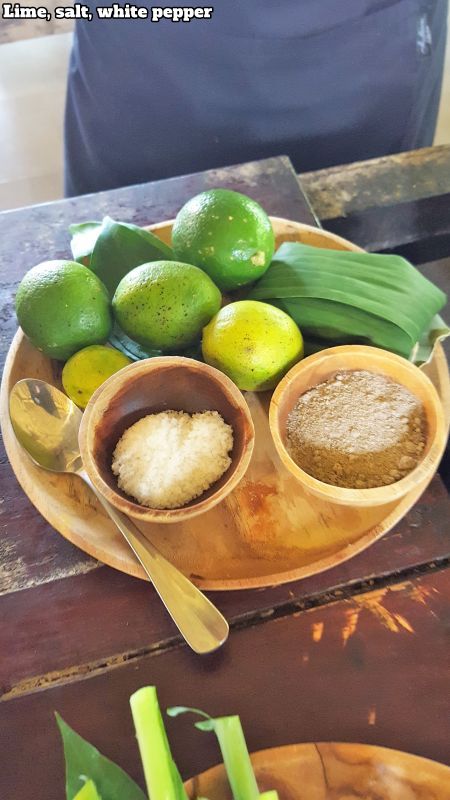 Before going over to the main courses and the dessert, we took a break and ate the appetizers. At the same time I had to be careful to leave enough room for the further courses in my stomach. 😀
The main courses
We cooked three main dishes altogether. Curry, Corn Fritter and Pepes.
For the curry (Opor Tempe Tahu) we first made Bumbu Bali. Half of this spice paste made from ginger, turmeric, of course garlic and various other ingredients that serves as the basis of many dishes in Bali, we have used for Pepes.
For the curry we then put fried tempe and tofu, diced carrots and potatoes, the Bumbu Bali, lemongrass and Balinese bay leaves in a pot. Covered everything with water and simmered it until most of the water has evaporated. Then we added coconut milk, which we allowed to boil again. Finished.
Pepes are small bags of banana leaves that are steamed. In our case they were filled with young bamboo mixed with bumbu bali, flour, palm sugar, thinly sliced ​​lime leaves, salt and pepper.
The third main course was Corn Fritter (berkedel). These consist essentially of corn kernels, red and green peppers, onions and flour. Instead of egg, we used coconut milk for the vegan version.
What did our colleagues cook?
The other three, who did the "regular" cooking class, cooked Sayur Urab (a salad of various vegetables and grated coconut) and Bali Sate Lilit (Balinese kebab) as starters.
Their main courses were Opor Ayam Bali (Balinese sweet and sour chicken curry) and Tuna Sambal Matah (fried tuna with a raw sauce), unfortunately I do not remember their third main course.
Dessert
For dessert we made black rice pudding for all of us. Since the preparation takes about half an hour, we have already started cooking the black rice pudding before the main courses and left it to simmer with occasional stirring. The ingredients for this you can see in the following photo. The bananas and coconut milk were added at the very end.
Conclusion of Pemulan Bali Farm Cooking School
If you're in the Ubud area for a few days, I can highly recommend to attend the cooking class. It was so much fun, so interesting and the food was extremely tasty.
We worked a lot with the Balinese mortar, which was the hardest part of the course. Everything else was a breeze. Of course thanks to the excellent support of the Pemulan Bali Farm Cooking School team.
I would do the course again immediately – and eat nothing before to have more room for the delicious food. But don't worry, what's left over can be taken home.
Info – Pemulan Bali Farm Cooking School
Course times
Morning: 7:30 am – 2:00 pm including the visit of a local market
Afternoon: 12:30 pm – 6:00 pm
Prices and services
In the course price as of March 2019 IDR 400k for adults and IDR 250k for children the transfer to and from Ubud is included. The number of course participants is from 1 to a maximum of 14. Cookbook and PDF download of the recipes. Of course, all the ingredients for the food.
For a simple booking, I can recommend Cookly*. On this platform you will find many other cooking classes in Bali and around the world. The good thing about Cookly is that you can choose your language and currency.
Book the morning class* (incl. market tour)
Contact details
Phone and Whatsapp : +62-81239-534446
Address : Banjar Patas, Taro, Gianyar, Bali 80561
E-mail : info@balifarmcooking.com
The links marked with an * are so-called affiliate links. If you buy something through these links, I get a small commission from the provider. It makes no difference to you in terms of price. So you can support me easily and free of charge.